Interviews House Creator Fred Dekker
FRED DEKKER was born and raised in the San Francisco bay area, where he began making amateur films at the age of 12. He later attended UCLA and became friends with a small group of Hollywood hopefuls that dubbed themselves "the Pad O' Guys" in reference to their bachelor lifestyle and the dingy Los Angeles house many of them shared during the 1980s. This group included Shane Black (Lethal Weapon), Ryan Rowe (Charlie's Angels), Jim Herzfeld (Meet The Parents), David Silverman ("The Simpsons"), Greg Widen (Backdraft) and Ethan Wiley (the House movies).
In the mid-80s, Dekker's first unproduced screenplay, The Forever Factor, paved the way for a career which includes -- as writer and director -- Night of the Creeps, The Monster Squad, the "Tales From The Crypt" TV series, and RoboCop 3. He also contributed (uncredited) to films like Ricochet, Titan A.E. and Lethal Weapon 4. Dekker wrote the screenplay for the feature version of Jonny Quest for Warner Bros. and more recently, created and wrote the pilot script for "Rocket City" a proposed television series for Columbia/TriStar. In 1997, Fred married writer Moira Kirland Dekker, now a writer and story editor for the James Cameron/Fox series "Dark Angel".
- As the creator of the House franchise, can you tell us about the conception of the original idea and how it evolved?
My college pals and I wanted to be filmmakers. Between beers (or because of them), we decided to embark on a group endeavor inspired by Twilight Zone: The Movie. Each of us would direct our own segment of a video anthology (only two stories were actually filmed -- by Chris Maes and James Cappe). Although I shot a wraparound segment about a writer's word processor developing a mind of its own to create the stories we see (the segment starred Ethan Wiley as the hapless writer and it was filmed in Steve Miner's Santa Monica office), my actual segment for the omnibus was never realized.
I did concoct a script, however. It concerned a Vietnam vet haunted by a skirmish with the enemy in which one of his platoon was mortally wounded. When his agonized screams threatened to give away their position, our protagonist killed his friend -- an act that continues to haunt him years after he has returned home from the war. Seeking counsel, our protagonist meets a beautiful young VA psychologist and, naturally, romance blooms. As he grows closer to the woman, he begins to experience visions of his dead, rotting war buddy who appears to have returned from the grave to sabotage the relationship. These visions increase in intensity, finally resulting in our hero's violent death. We are left to wonder, was he the victim of his dead friend's vengeful ghost? Or is it his own guilt -- indeed, America's lingering guilt about the war -- playing tricks on his mind and causing him to commit suicide?
It was a pretentious, Rod Serling-esque allegory as well as an excuse to do rotting zombie effects (Shane Black would pick up this thread for his first screenplay, Shadow Company; a script about a zombie platoon that he and I later tailored for John Carpenter). But at least my story was about something; a horror yarn in the grand tradition of Serling or Roald Dahl or even -- Gasp! Choke! -- the classic EC Comics that would later put money in my pocket.
At this same time, I was mulling how to break into directing professionally. Thanks to people like Steve, Sean Cunningham and Carpenter (all of whom I eventually had the privilege of working with) horror films were very big then, and a low-budget horror flick was pretty much a no-brainer as an entré into the business (the same way 'violent-wise-cracking-criminals-with-guns' is the now-boring, post-Tarantino choice).
My initial idea for a directorial debut was this: A guy goes into a house at the beginning... at the end, he comes out... and in-between is the scariest shit I could possibly think of! It would be a straightforward haunted house movie, and I would film it in my parents' hundred year-old Victorian in Marin County, California. But for some reason, I was putting off actually writing the screenplay. This might have been laziness... or fear of tackling a politically dicey, thematically ambitious premise. Or maybe I was just too busy with my day job: writing Steve Miner's Godzilla: King of the Monsters 3D. Steve had negotiated with Toho for the rights to the big green guy, and had passed over many better-known (and better) writers to give me my first big break in the Hollywood salt mines. At some point, it occurred to me: what if my Twilight Zone-ette and my scary haunted house movie were one and the same? What if my protagonist is the Vietnam vet, and the reason he's going into the house is to exorcise his personal demons once and for all?? The heck with my "Pad O'Guys" anthology video -- I had a real movie idea now!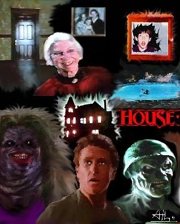 Enter Ethan Wiley. Ethan was my college roommate and remains one of my best friends. We had written plays together in college, had often collaborated, and after I pitched my idea for House (yes, the title is mine), his response was immediate and enthusiastic: "Sounds great! Let me take a crack at it!" He finished a script in roughly the time it takes me to go to the bathroom.
Cue ethical dilemma. Here my buddy had done what I had been too lazy to do: he actually sat down and wrote the damn thing! Now I had a script and a house to shoot in, all I needed was financing.
There was one problem (not counting the getting-the-financing business) -- it was not that I didn't like the script, only that it veered from my initial vision in a rather dramatic way: It was a comedy. What I had conceived as a gritty, black-and-white, William Friedkin-style character-study-cum-ball's-out-horror-film was now a tongue-in-cheek, Mad magazine-style, effects-heavy hootenanny with goofy neighbors and comical monsters. I had a decision to make. Should I tell Ethan I wanted to make a different kind of movie and endanger the friendship?
I decided to seek another opinion, preferably a professional one. I chose my boss, Steve Miner, who loved House at first sight and as it turns out (in the wake of difficulties getting Godzilla up-and-running), was looking for something of his own to direct. He showed the script to Sean Cunningham who -- it seems -- had access to that pesky ol' financing. So, with the understanding that Steve and Sean would support me directing something else in the future, I let my baby be adopted and raised by others, if you'll pardon the ridiculous analogy. Thus House was built. Two ironic footnotes: The film that ended up being my directorial debut (Night of the Creeps) was a tongue-in-cheek, Mad magazine-style comic/horror film. And its talented Second Unit Director...? Some guy named Steve Miner.
- Does the original 15 page story still exist?
Ask Ethan, but I think the mysterious 15 pages may be an urban legend. I wrote some notes, but never a full story. 15 pages is the approximate length of my original Twilight Zone script, so maybe that's where the idea got started.
- As it progressed, how did the rest of the creative team get involved?
Sean and Steve had collaborated on the Friday the 13th films, so a few of the House team came from there -- including composer Harry Manfredini and stunt coordinator Kane ("Jason" himself!) Hodder. A stand-out contributor to House and House II: The Second Story was the production designer, the late Gregg Fonseca, who would go on to design Honey, I Shrunk The Kids and Wayne's World.
- Were you involved in the making of the movie? Did you ever visit the set?
I may have solved a few last-minute script problems, but mostly I was a grinning by-stander. For my first big-screen credit, it was pretty awesome to walk onto the stages at Raleigh Studios (across the street from my current office at Paramount Pictures) where Gregg Fonseca had built the entire interior of Roger Cobb's house as well as a fetid, hilly Vietnam jungle. I watched them shoot several of Big Ben's scenes (both before and after his demise), and it was all very exciting considering just two years earlier, I was still a measly college student. House II was even more fun since Ethan and I were shooting at the same time at the Culver Studios in Culver City. I was doing The Monster Squad, and it was like college all over again; if I had a few spare moments, I'd nip over and watch Arye Gross battling a gun slinging zombie, then Ethan would follow me to my soundstage and watch us blow up the Wolfman. It was a time I remember with great fondness.
- Do you have any memorabilia or props from House? Or indeed, any of your movies?
I have the Monster Squad amulet, which can tip the scales between good and evil (although it couldn't prevent George W. Bush from being elected President). I also have a Kyle Secor zombie head from my "Tales From The Crypt" episode designed and built by the Kevin Yagher Studio. And on my desk, a RoboCop statuette painted for me by Rob Bottin's actual "RoboTeam." And, of course, lots of paperwork and storyboards (including some by Doug Wildey and Dave Stevens for Godzilla). I might even have that 15-page script, but you'll have to hire Lara Croft or Indiana Jones to find it.
- When did you get to see the movie and what was your opinion of it?
I assume I was invited to the premiere, but I don't remember; I think I was too busy chasing girls. I do remember looking at scenes in the cutting room with editor Michael Knue, and shortly thereafter asking him to edit Night of the Creeps. Which he did (among many other films including Rocky 5, Spawn and Highlander: Endgame).
- Looking back is there anything you would have done differently?
As stated, my version of House was very different than the one they made. But in the final analysis, I'm not sure mine would have been as successful. What Ethan and Steve brought to the project was a sense of fun, whereas I wanted to do something dour and unrelenting and probably kind of a bummer. So it probably worked out best in the end. Except, of course, for Sean Cunningham not paying me, the cheap bastard. (Just kidding, Sean!).
- Do you still have contact with anyone else who worked on House?
As I said, Ethan and I remain buddies, even though we're separated by the continental U.S. (he lives in New York, me L.A.). I visited Steve on his many of his sets, including Soul Man and Forever Young, and will always thank him for my first professional job and his infectious laugh. I began writing a high school thriller for Sean, and even though I quit after ten pages (it was eventually made as The New Kids), he still sponsored me into the Director's Guild. Last year, I had the privilege of doing the same for Horror Show director Jim "Smash" Isaac so he could make Jason X (a Sean Cunningham production, of course). Recently, I joined Bill Stout at a Godzilla convention, "G-Fest", where he showed slides of his production art for Godzilla 3D and we got to re-tell the story of my first, unmade screenplay for a ballroom full of appreciative monster fans. And so, the circle of life continues in the world of House. Now if somebody could just find that damn kid in the mirror!
Interviews House Artist Richard Hescox